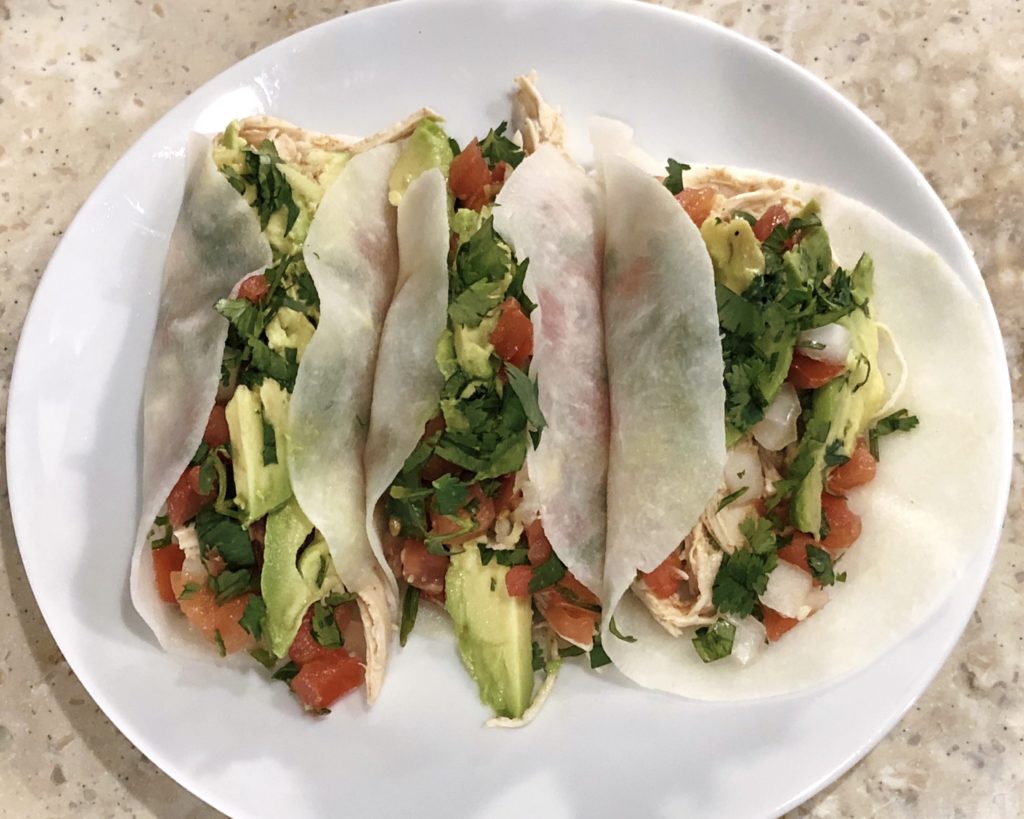 Whole30 Chicken Jicama Tacos
I love tacos! It is probably the one thing I miss the most while doing a Whole30. I never really got into the whole lettuce taco wrap thing so I usually just push through Whole30 without my favorite food. Then, I found Jicama Tacos.
When in Texas, I found pre-sliced jicama tortillas at the local HEB. I decided to give them a try and see just how good of a replacement these might be. They were amazing! I mean nothing will replace a good corn tortilla but these are so good I am now eating them even when I'm not on Whole30!
They are really easy to make too! You can fill this little baby with whatever protein or veggies you desire. Below is how I whipped up some really quick and easy chicken jicama tacos.
If you can find these pre-sliced from a grocery store, you are really winning. If not, you can easily slice them thin with a kitchen mandolin! Just peel, get it to a size that will fit in your mandolin, and slice thin!
---
Chicken Jicama Tacos
Makes 3-4 Servings
1 Tbsp. Chili Powder
1/4 tsp. Garlic Powder
1/4 tsp. Onion Powder
1 1/2 tsp. Ground Cumin
1 tsp. Sea Salt
2 Chicken Breasts
Thinly Sliced Jicama
1/4 C. Onion Chopped
1/4 C. Cilantro Chopped
Sliced Avocado
Your Favorite Whole30 Salsa
Boil chicken breasts with a little bit of chili powder.
While chicken is cooking, mix together all the seasonings in a small dish. In a separate bowl mix chopped onion and cilantro (or keep seperate but I like mine mixed)
When chicken is done, drain, keeping some of the cooking water in the pan. Shred chicken once it's cool enough to handle.
Place shredded chicken back into the pan with remaining cooking water and toss in the seasoning. Mix to coat.
Jicama tortillas can be served cold or heated. I prefer to heat mine so I use a little oil in a pan and warm them like I would a regular tortilla, flipping after a minute or two until heated.
Fill jicama tortilla with chicken and top with the onion & cilantro mix, sliced avocado, and salsa. Enjoy!
---
For More On Whole30, Check Out My Whole30 Hub.