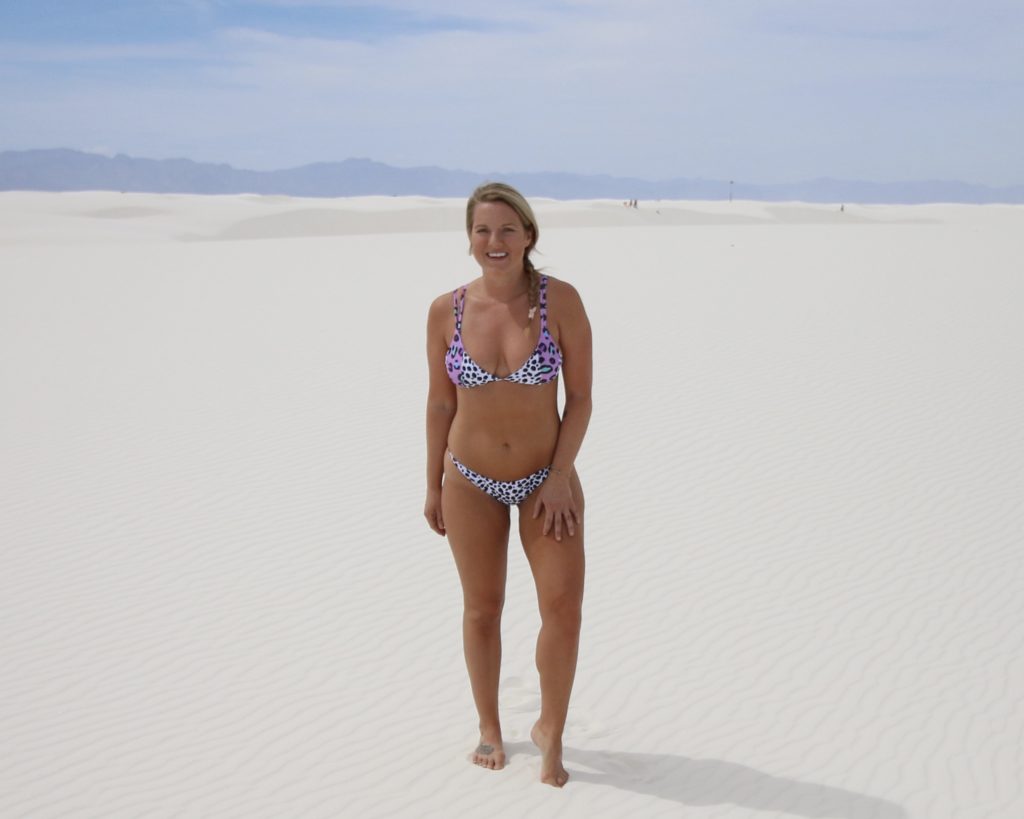 My Favorite Bikini Tops
If you know me, you know I love a good bikini. When I find a brand that is high-quality and affordable, I am a customer for life! Often buying what feels like the entire collections, hehe. In this post I am going to run you through all my favorites, the pros and cons of the styles, and why I love them!
It took me a lot of years of trial and error to find a bikini that fit right and made me feel confident. I lived in Victoria's Secret and Target bikinis up until 3 years ago when I finally took the plunge and bought an (eek!) expensive bikini. And by expensive, I mean each piece cost more than $20.
You guys, it was SO worth it! I have since tried on some cheap bikinis since finding my new loves of affordable AND high-quality suits, and they are just not the same. When you receive these babies in the mail, the second you open them you will FEEL the difference. Oh and once you try them on, you'll see just how much more flattering they really are!
Practical Things Needed In A Bikini Top
I am a bustier girl, even though I don't have a big cup size, go figure. It's just the way my mama made me. Finding the right top to fit, flatter, lift, and hide side boob (which is flattering on some, but not on me) is my number one goal.
My second goal in a top is something that looks good in the back. Maybe you know what I mean? Often they ride up your back (especially if you are busty) and looks strange when the strap is way up between your shoulder blades.
---
Ama Bikinis: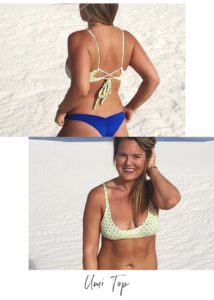 I am new to Ama Bikinis so I can't speak to all their tops but the one I have is fast becoming a favorite! I am going to stock up because they have some really pretty prints in the works PLUS they are offering my readers a special discount! Try them out and see what I mean! Save 25% off the collection with code AMAFAN.
Umi Top – This top is super flattering and has great side coverage. It is fully adjustable in the back with cross-ties so it fits like a halter by lifting and doesn't ride up at all. It comes with removable padding and the cups are fitted nicely to give a great shape!
---
Kulani Kinis:
Kulani Kinis are simply amazing. A fellow fit friend turned me on to them a little over a year ago and I have been buying them ever since. Their price point is spot on and they're a really high-quality suit. They come in so many fun colors and prints, it's hard to choose just one… or two! Have Fun with this special discount of 20% off just for you! Use code: HF20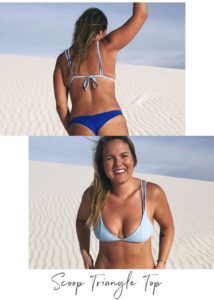 Scoop Triangle Top – This is my FAVORITE top. These babies are tailored like a dream, they lift, separate and fit the bust beautifully! Each shoulder has two straps for a fun look and it ties in the back. It will sometimes ride up the back, but nothing that makes me not own it in just about every print!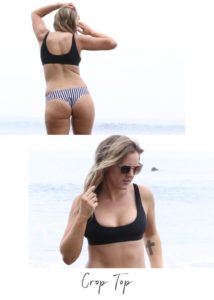 Crop Top – You might as well be wearing the most comfortable and flattering sports bra with this suit. The band around the bust is tight to lift and hold in place. The cut is incredibly flattering from the front and back. It is an easy top to throw on if you have an active day in a bikini, want to wear it under your tank or just want to be comfy in a cute kini!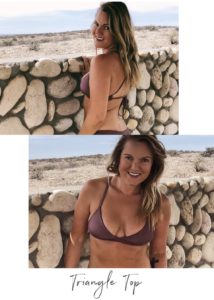 Triangle Top – When I first ordered from Kulani Kinis I was hesitant because triangle styles don't usually work well for me but that has not been the case with this top! It is an OG style from Kulani Kinis which makes sense because it's a great little top for everything from tanning to swimming and being active on the beach! It comes as an over the shoulder style and quite honestly, it's not my favorite look from the back. But I quickly figured out how to change the straps to make them cross back which makes it more like a halter and gives it a little bit more look from behind. The straps come long so you can adjust as needed and simply snip & tie them off when you have the right fit for you!
---
Midori Tops:
Midori Bikini's are my all time favorite. They are the bikini I was working towards when I first started to workout and get healthier. Specifically, their brazilian cut bottoms but we will get to those in part two of this post. Midori Bikinis has made some amazing bikini tops that both flatter, lift, and compliment the bust.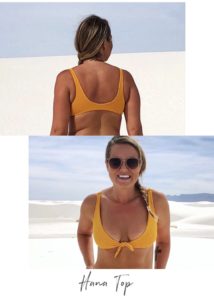 Hana Top – This top from the 2018 line is the MOST flattering and my current obsession. Like unbelievably flattering, no side boob and the bust looks great. The front ties make it adjustable (and oh so cute) and it comes with removable padding. The only downside is it fails the second goal and it does ride up the back some. It's so flattering though, I don't mind it and I just make an effort to pull it down in the back.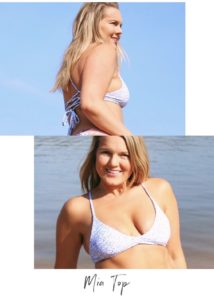 Mia Top – The Mia is a great little top because it has the halter aspect which supports the bust and the cut is very nice! On me, there is a little bit of side boob, but nothing crazy and I could probably size up to fix this. It comes with removable padding and the back details are a beautiful criss-cross with tassel ties. It is fully adjustable and it does not ride up your back!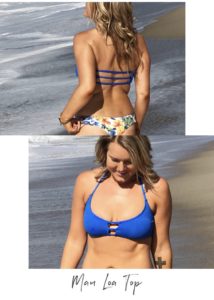 Mau Loa Top – There is a reason this one comes back year after year. It offers support, is incredibly flattering in the front and back with it's 3 strap detail, it doesn't ride and goes with everything! It also offers removable padding. If you don't have one of these, you need one and might I recommend getting it in my favorite pattern of 2018, Lanai!
Try them on and let me know what you think!
PS… Check out this review of my favorite self-tanners so you can glow year round!