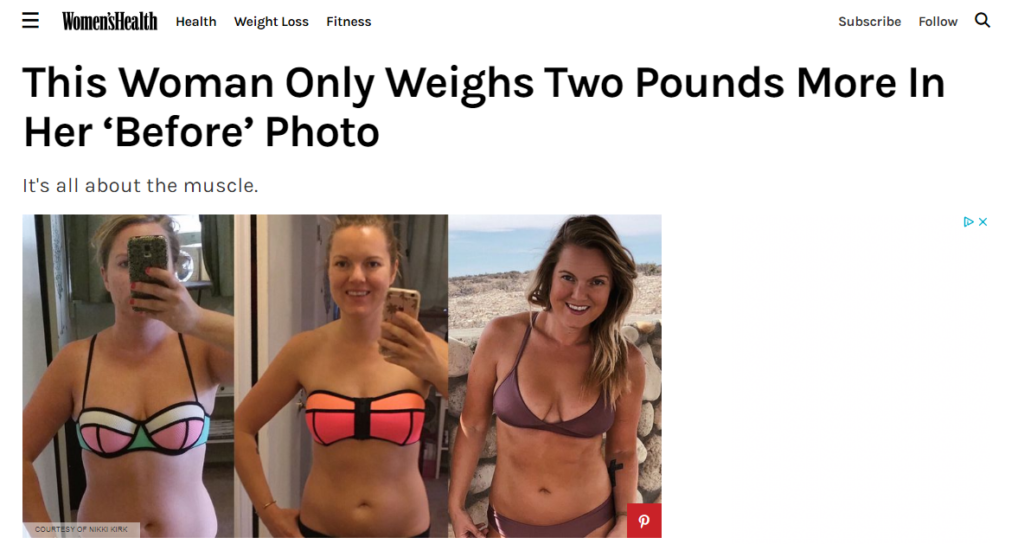 Last month I had the honor of sharing my story with Women's Health Magazine online as part of their Transformation Tuesday series.
The Women's Health Magazine series is showcasing women who are changing their lives through fitness. You can check out that article here!
It has been awhile since I have shared my story here so I thought I would dive in and share just where it is I started and where I am now on my fitness journey! It was an unbelievable honor to be able to share with a magazine like Women's Health Magazine, who has been inspiring me from the beginning.
---
The first diet & exercise program I remember doing was when I was 16 years old.
By this point I was feeling overweight and already ashamed of the way I looked. I had seen a weight loss pill commercial that claimed to help people eat less food. It kept showing food left over on a plate from a meal. Having no money for the pill, I thought "ok, I'll just leave some food on my plate". I also took up running for the first time. I quickly shed my teenage weight and kept it off through various very low calorie diets throughout my teenage years.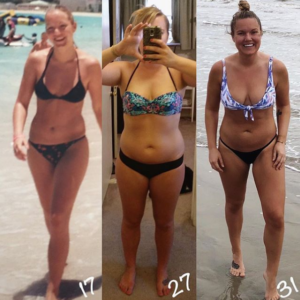 When I moved to Los Angeles for college, I stayed after graduation to start my career. I took up drinking heavily and quickly packed on the pounds. I went from 140 to 195 lbs in less than a year. By the age of 24 I found myself in an unhealthy relationship that revolved around drinking. Having been laid off when the company I worked for shut down, I had all the time in the world to be unhealthy and depressed.
After a year of endless job searching and finally ending that relationship, I set out to take back my mental and physical health. A friend gave me the Beach Body program, P90X, and doing that along with running again, I lost the weight I had packed on and was back to my old self.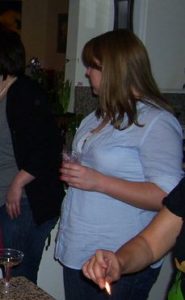 My old self however, was in a constant all or nothing yo-yo. I spent the next 3 years packing on and shedding off the same 20 pounds.
Finally, in 2015 something changed.
I was 28, tired of feeling depressed about my body. I had just gotten into using Instagram and I was searching the web for inspiring ladies to follow. Through that search, I came across Kayla Itsines and her Bikini Body Guides (BBG).
The gym has always intimidated me so I loved that these were at-home workouts. I loved even more that they were 30 minutes or less! I had seen so many amazing results I was determined to finish the 12 week program. One thing that was different with this program was that BBG had a whole online community surrounding it.
I woke up in the morning to scroll through the BBG hashtags. I would see the posts and be inspired to get my booty into gear for that day's work out. The BBG Community is insanely positive and uplifting and that positive feedback continued to keep me motivated each week. While I wouldn't always see the progress day to day, I took tons of progress photos and seeing the changes kept me going.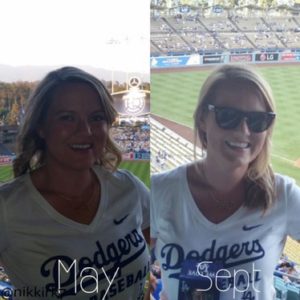 After about 10 weeks, I dared to show my first transformation photo. It was just the changes my face had showed, but it was scary to share on my account which at the time was friends and family. After that I got a little more confident and started to share my full progress photos. I loved how I was feeling, both mentally and physically from this new workout program.
I was hooked and I kept going, doing BBG for just over 2 years!
Through BBG & Instagram I made so many new friends in the LA area and started to co-host the local meet-ups. I truly think engaging in the community in coordination with the workout program gave me a whole new level of confidence. And more importantly, helped me to stop the yo-yo fad dieting.
I had finally understood what balance was about and that it wasn't all or nothing.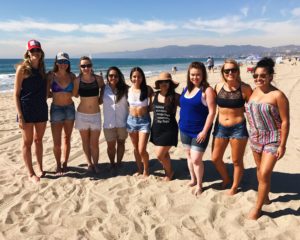 When I started BBG my goal was to be skinny. Through doing the program I was able to lose weight for the first year. I quickly learned that being skinny wasn't going to work when I also wanted to build muscles. Joining the gym in 2016, I was hitting the weights, not knowing what I was doing exactly but using bodybuilding.com guides to help me.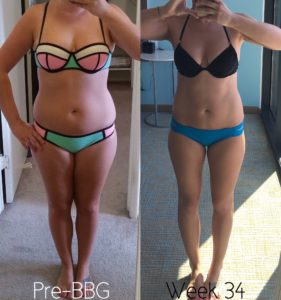 Earlier this year when my favorite IG crush, Kelsey Wells, came out with her PWR Program for weight lifting, I was sold! This is exactly what I was looking for in a program. I completed the first 12 weeks. When I get on the scale, it says I am only 2 pounds less than when I started this journey 3 years ago. My body composition has completely changed though! I have more muscle and am toned in ways I had only dreamed of.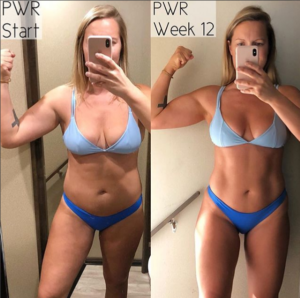 In the last 3 years my mental health has become so much stronger. I don't fall into the drastic highs and lows that I once did. I am finally living that balanced life I was never able to achieve in my younger years. And I no longer live by the scale. My body is going to weigh what it's going to weigh. I am happy with all the new strength I have gained and confidence in myself. I love myself now instead of feeling shameful and like a failure PLUS I have total confidence at the gym!