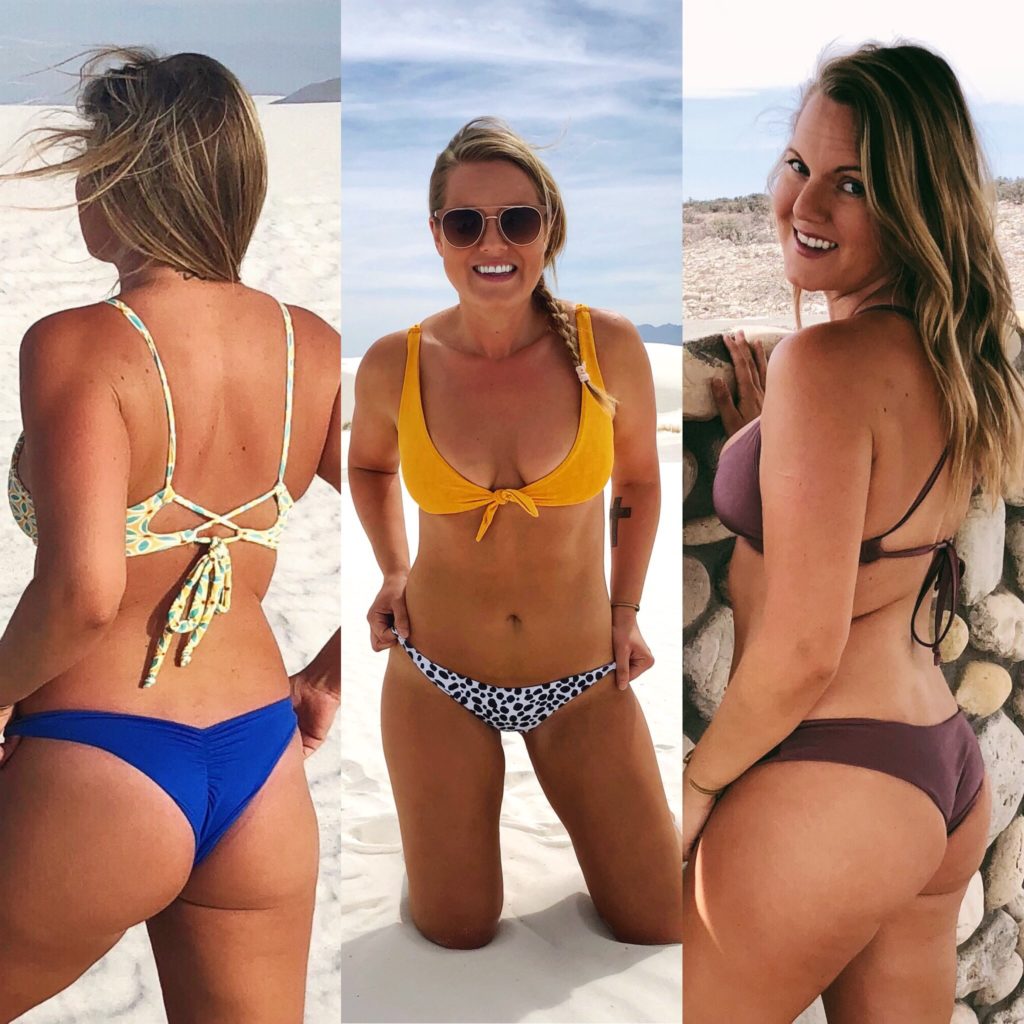 My Favorite Bikini Bottoms
Today we are talking Bikini Bottoms! If you missed my first post on bikini tops, be sure to check that out here. When I first started to workout, I came across Midori Bikinis which had these super cute brazilian bikini bottoms that I was aiming to buy for myself with the goal to feel confident in them!
Brazilian bottoms were not all over the place like they are now, so it was a big stretch to want to wear these itty bitty bottoms out in public. It's a funny thing, and if you haven't gone with less coverage in the back you will be skeptical, but less material actually does make your bum look better!
You also might be a little wary about the price tags on these (I know I used to be!) but the little bit more money that these bikinis cost are all going towards things that benefit you! From better fabrics to tailored construction, these designers take the extra time to make sure the suits are cut beautifully so they fit your body in flattering ways.
Practical Tips to Great Fitting Bikini Bottoms
In the past few years of trying tons of different bikinis, I've discovered that seamless bottoms are really the trick to a great and flattering fit. You'll also need to let go of any mental issues you might have with being a certain size. Make sure you have a size that fits without squeezing or cutting in on your sides. Size up if you need to, no one will know the difference and you will look thinner because the bottoms are not creating a muffin top.
---
Midori Bikinis
They were my goal bikini bottom back then, and they are still my favorite today. I live in these things. Midori Bikinis has AMAZING quality and they offer everything from a whale tale thong style to a new fuller coverage but still cheeky bottom. As you might expect, I have no insight into the more coverage style but if that's how you want to ease in, I can guarantee you will not be disappointed with Midori Bikinis Parker style.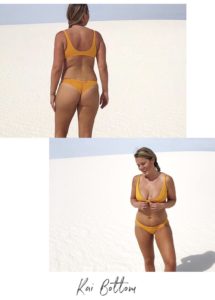 Kai Bottom – My hands down FAVORITE bottom ever. I almost didn't buy in the blue Napali color and if you follow my instagram account you will see that it's the bottom I wear the most!! These bottoms are seamless and have a little scrunched detail in the back. Normally, this is not my thing but with these it just works. They have thin sides, perfect for tanning and have very little coverage in the back, which I love.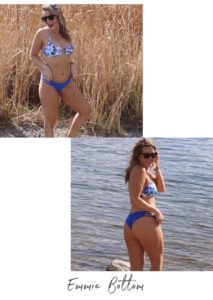 Emmie Bottom – I really like this bottom because it offers pretty little side straps with a braided detail. If you are looking for a little bit more coverage in the back, these are perfect. They are cut beautifully to give your bum a great shape and are seamless for ultimate comfort.
Brayden Bottom – I have only tried these on so I don't have any images to show of them on me, but they are cut almost like a boy short, offering even more coverage in the back but still cheeky and cute. They are seamless and fit comfortably like the Kai but with a thicker side strap. These were too much coverage for me, but might be perfect for you if that is what you are looking for!
---
Kulani Kinis
These babes. I mean they really know how to make a great little bottom! Kulani Kinis bottoms are all seamless so they fit great and the material is soft and comfortable. Not to mention, they dry really quickly and most are reversible! Have Fun with this special discount of 20% off just for you! Use code: HF20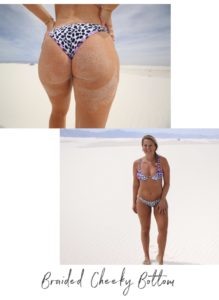 Cheeky Braided Bottom – These are my favorite bikini bottoms from Kulani Kinis because they offers minimal side coverage and cheeky back coverage. They are seamless, with a thin braided side detail. They are reversible and some offer two prints in one so you will really get mileage out of them!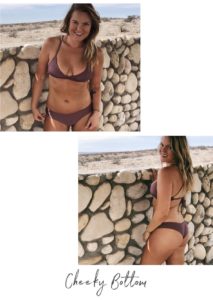 Cheeky Bottom – This was the first bottom I tried from Kulani Kinis and I am still buying them today. It's simple and just works. This is the bottom I own with the most coverage so I call it my family friendly bottom, it's still cheeky though! It's seamless and reversible and they have a few new shimmer fabrics available in this cut which are really fun.
Try them on and let me know what you think!
If you missed Part One with my favorite bikini tops, check that out here!