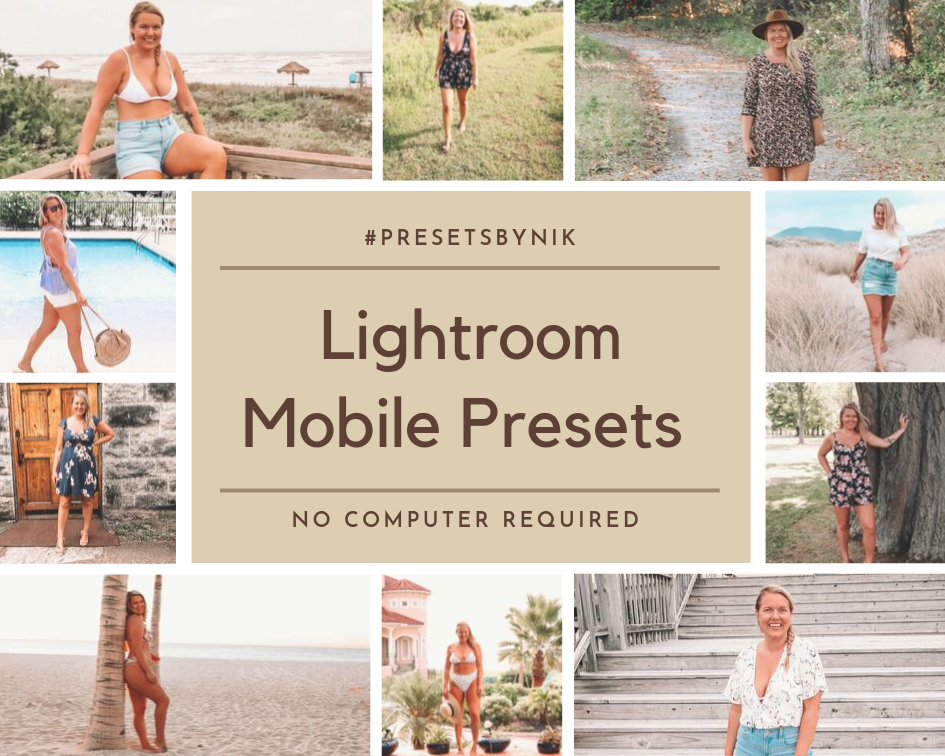 #PresetsByNik Lightroom Preset Pack is Here!
I am so excited to share my Lightroom presets with you. Since I am a fan of the outdoors and being by the water, these are all inspired by blues and light, airy vibes. I have been using Lightroom to edit my photos for the last year and I love the transformation it has made for my Instagram and blog.
All you need is the free Lightroom mobile app and the #PresetsByNik mobile pack.
No Adobe subscription or computer is required. A video tutorial showing you how to download and use the presets will be emailed after purchase.
Preset Pack Includes:
• 11 Different Lightroom mobile presets which can be used on iPhone, JPG, and RAW images. (BEACH PLEASE, ALFRESCO, SEA BREEZE, SUNKISSED, AU NATUREL, ISLAND TIME, TROPIC, MAPLE CANDY, ACORN, PUMPKIN SPICE, plus free preset SELFIE.)
• A video tutorial showing you how to use and install the presets right from your phone.
BLOG READER SPECIAL! Use Promo Code: 15off and save 15% Off the Preset Pack!
These presets are ideal for Instagrammers and Bloggers to take your feed and pages to a new level. These presets work best on outdoor photos with good lighting. They also work on indoor photos with good, natural lighting. I take most of my photos with my iPhone X or Canon 70D. It helps if you have a basic understanding of how the Lightroom app works, but these are one touch and ready to go if you are new to Lightroom.
Thanks for checking them out! Be sure to tag me @Nikkirk7 and use the hashtag #PresetsByNik for your chance to be featured! Happy Editing! xo