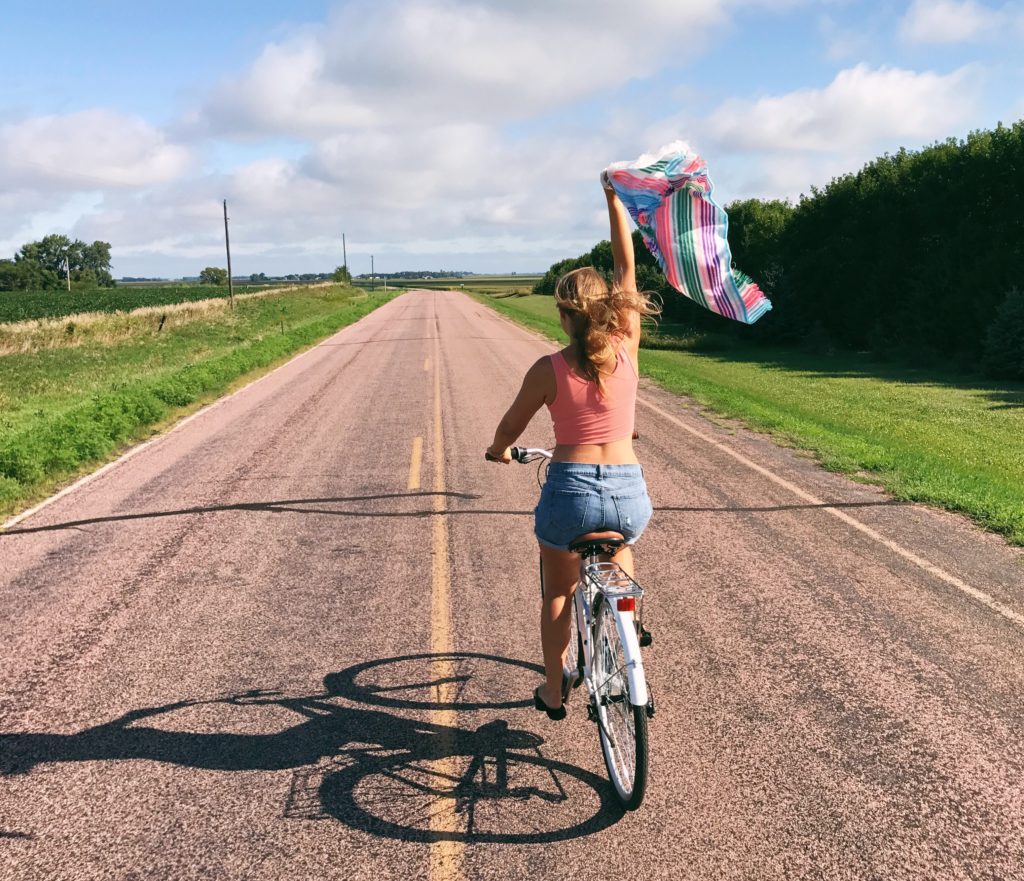 How to workout while traveling seems to be the most daunting task. One where we think only the few die-hard fitness fanatics really ever accomplish it. Whether you're traveling for business, vacation, or are a digital nomad like myself, most people wind up letting their workouts slide while traveling.
Working out while you travel is actually really simple and it took me traveling full-time in my RV to finally understand it. It's not that hard but you do have to be a bit creative and think outside the box with both your time, money, and space. Good news for you is, I have done the hard part for you!
And! Because I am on a budget, these workouts really won't break the bank.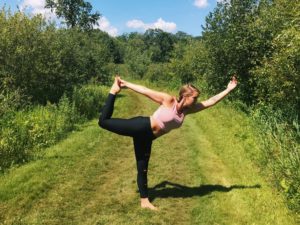 Here are my easy ways to get in your workout while traveling and on a budget.
The Hotel or Resort Gym: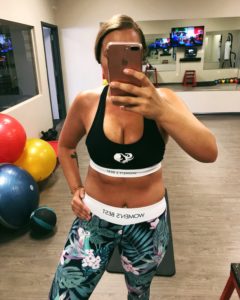 This one is pretty easy right? If your hotel or (RV) resort has a workout room, you've got little excuse not to hit it. Most often, the excuses I've encountered are "But this bed is so comfortable" "I can sleep forever with these blackout shades""It's too cold out" etc.
But the great thing is, this gym is so easy and close AND you will feel a lot better having hit it. Especially if you've used precious luggage space to pack your workout shoes and clothing. Now, if not knowing what workout to do in the gym is your excuse, head on down to the next workout idea.
At-Home Workout Guides: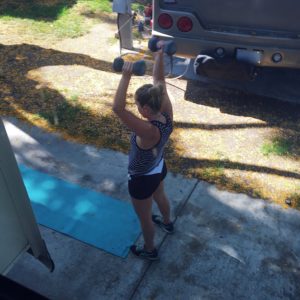 There are literally so many at-home workout guides in PDF versions out there. Once you make the initial investment into them, you can keep using them over and over again, anywhere. Of course my personal favorites (because they work!) are Kayla Itsines BBG (Bikini Body Guide) and Katie Dunlop's Love Sweat Fitness guide (LSF).
Take these to the resort gym or your hotel room floor. Since they're PDFs, they can be on your phone and take up no space at all making them perfect for a workout while travling. Most have modified moves so you need no equipment or you can use the water bottles in your room as weights and tub as a step (which I have done many a time).
Other guides out there: The Tone It Up babes, the at home or gym based My Best Body, Alexia Clark, or even just perusing BodyBuilding.com for some workout plans!
Find one that intrigues you and go for it! Plus! All these guides have the added bonus of active and positive Instagram communities to help motivate and encourage you to workout on the road. (For more tips on how I stay motivated, check out this blog post here.)
Local Gyms, Community Centers, and Studios:
If you are going to be in the area for a few days to weeks, see what gyms and studios are around! I have tried out a few different regional and national chain gyms, utilizing their free day or week passes. I even signed up for Snap Fitness for $9 for a month trial! This one worked out well since we were near different Snap locations for that month. And, I kind of fell in love with that small gym experience and hope to join Snap again sometime soon!
Pretty much every medium to large gym has some free pass offer which you can sign up for online. And don't worry about that usual gym initiation walk through. Since you're on a free pass, you can just tell them you know your way around the gym and don't need help. This has worked for me with no issues, I sign up online, walk in, register and workout with no 'help' from the staff. However, if you need help or are new to the gym, be sure to ask for a walk through!
Almost every city has some kind of YMCA or community center, I found one in Illinois for $2 a day! You can't beat that! Do a search on google maps for "gym" and all your options should appear for that area!
Other money saving tips and studio tricks to help you workout while traveling:
Search groupon in your travel area, you can usually try out a studio for as little as $10 a class.
Try out or utilize classpass studios. PS. ClassPass is always having some sort of promo, if you sign up for their emails you will get them delivered and can sign up when you find one right for you!
Download the MindBody App to see gyms and studios in your area as well as the pricing.
Reach out to a studio you want to try and tell them you're traveling, ask if they have any specials for first timers and possibly see if they will exchange a workout for a instagram post or shout out. You never know who might say yes!
Online Yoga: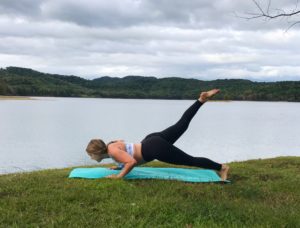 I loved my local yoga class when I lived in Los Angeles. After being on the road for a while and missing it terribly I came across bulldog yoga online classes. I am not exaggerating when I tell you these are literally like being in the studio. The only thing missing is that nice mini massage the teacher gave at the end with her rose and lavender water.
Bulldog has lots of different classes you can chose from and each one contains no strange chanting or mantras you might associate with more traditional yoga. It's just a nice and challenging workout (depending on your ability and the class you pick) with great music!
The best part, it's affordable and you can do it anywhere you can stream from the internet. I use it on my phone outside or plug my laptop into my TV in the living room of my RV. You could even invite friends over to flow! The possibilities are endless. Try it out with promo code: nikkirk715% to save 15% off.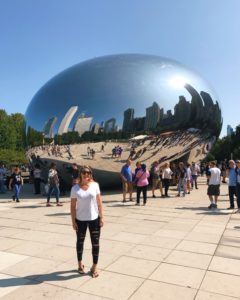 If all else fails, workout while traveling by exploring the new destination on foot, kayak, or bike!
Do you have any workout while traveling or budget friendly tips that I missed!? Comment below!