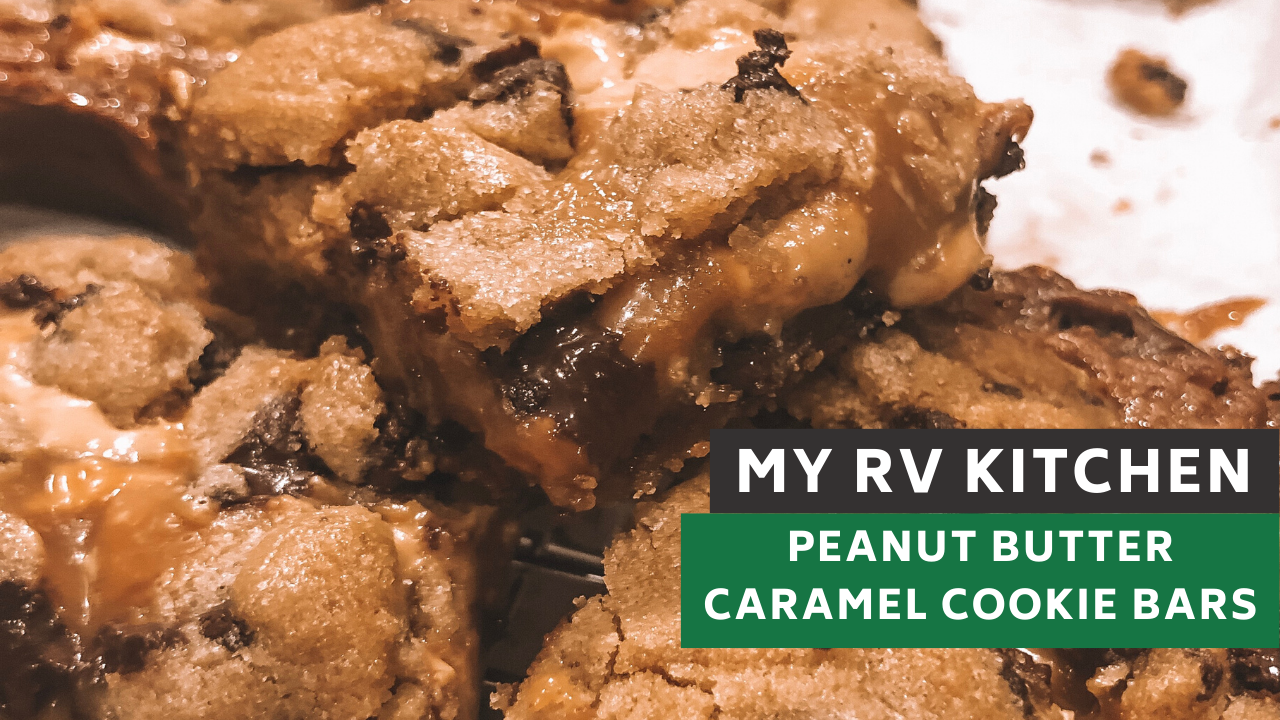 The holiday's are quickly approaching and so are all the parties!  These Peanut Butter Caramel Cookie Bars rarely make it out of the house before they're gone, but when they do, they are a sure crowd pleaser.  Which is great because they are so easy to make!
You can whip these up with just a few ingredients and in no time at all.  They're so easy, you might just feel a little guilty for all the praise you get at the party.  That is, until you take a bite out of one yourself.  Let me know if you win any holiday baking competitions with them!
Peanut Butter Caramel Cookie Bars
Ingredients:
2 (16.5oz) packages of refrigerated chocolate chip cookie dough
1/2 cup of milk
2 packages of caramel bits or 60 caramels, unwrapped
1/2 cup of peanut butter
1 package of Reese's Peanut Butter chips
Directions:
Preheat oven to 375℉ and line a 9×13″ jelly-roll or baking sheet with high sides with parchment paper.  The high sides are crucial as this will overflow if too short.  I use one similar to this. 

Using one package of cookie dough, spread dough onto the lined baking sheet to create the bottom layer and bake for 8 to 10 minutes. 

In microwave or double boiler, melt the caramels with 1/2 cup of milk.

When melted, stir in 1/2 cup of peanut butter and stir until combined.  If it seems to liquid, let it sit for a little, stirring occasionally. 

Pour caramel mixture on top of the cookie base, spreading evenly.  Sprinkle the peanut butter chips on top of caramel.

Crumble the remaining package of cookie dough on top of the caramel and chips. Cover as much as possible (it won't be completely covered) and press down lightly.

Bake for 15 to 20 minutes or until golden brown.  Cool in pan until set. (this might take a while with all that gooey caramel!)

Cut bars, serve and enjoy! 
Makes 2-3 dozen bars depending on how you slice them.  Store in air tight container. 
 Tips:
You can use a larger baking sheet to make more bars, I suggest buying three cookie dough packs to cover the additional space on the baking sheets.  1 1/2 on the bottom and 1 1/2 on the top.

Create a totally new cookie bar! Mix up the type of cookie dough (Snicker doodle! Peanut butter! Sugar cookie!) and the type of chips (Chocolate! Butterscotch!) to create multiple different cookie bar creations.